Can you improve the efficiency of your employee and calender planning?
Kalenda is an online planning tool for companies and institutions who use temporary workers. Kalenda can help you automating the planning process of work schedules of the temporary workers and give you an overview of the process. The system can contain contact information on both employees and temporary workers, and thus you can contact temporary workers automaticly and save time. You can also use Kalenda for planning meetings.
How does Kalenda work?
Kalenda is a user friendly software system, that everyone is able to use. You can get a clear calender overview, of the upcoming activities of the company, and see when you need to contact a temporary worker. The temporary workers can note in Kalenda time periods when they are able to work, which can save you the trouble of contacting temporary workers unable to work at the given time. After establishing the possible temporary workers you can let Kalenda contact them by sending a text message. Kalenda helps you release time for  important tasks and you can sit back and watch the planning happen – all planning is gathered in one system.
Who can use Kalenda?
Kalenda can be used by all companies and day cares etc. You can also use Kalenda just for schedule and meeting planning.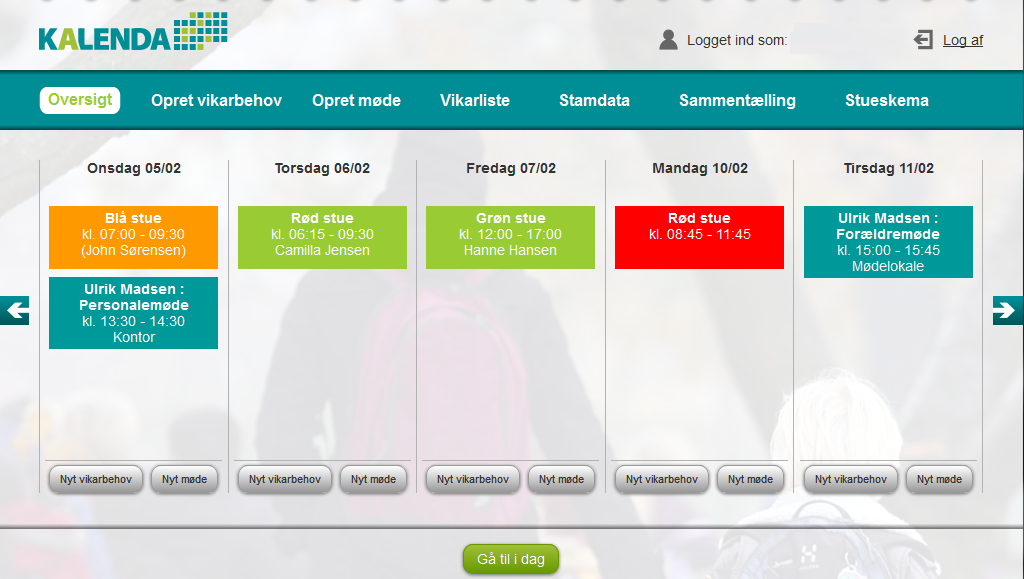 With this simple calender and planning  toll, you are able to get a clear overview of the activities and the open shifts of the week. There is a simple color coding system to give you a quick overview of shifts.  Red shifts are uncovered shift. Yellow shifts are shifts were you have already contacted a worker, and now waiting for reply. Green shifts are shifts, that are covered with a temporary worker. Blue is the colour code for meetings.

Questions about Kalenda
Use this formula, if you want to know more about Kalenda.